We are Providing Commercial cleaning Service: Hourly Fee AED 35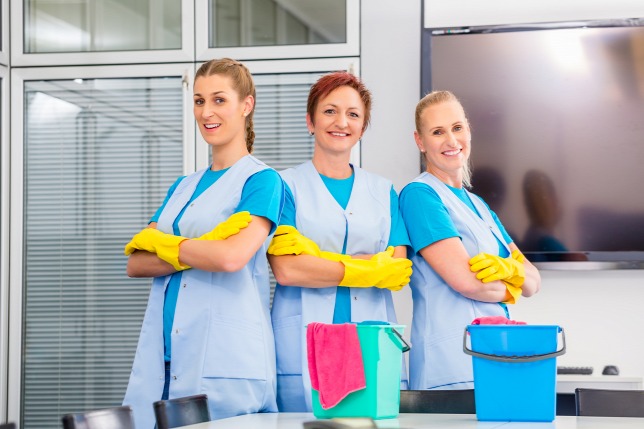 Commercial cleaning Service in Dubai
Commercial Cleaning is just one of many services that Spring Cleaning specialize in. Whether it is for an individual office or the building of a corporation, we use a variety of cleaning methods and chemicals to offer the highest standard of professional cleanliness.  The work we offer can vary from maintaining a clean working environment by cleaning floors, desks and kitchenettes to providing a Deep Cleaning service where every surface of the office is scrubbed, washed and polished.
Our Staff and types of service
The staff that work for Spring Cleaning have a vast amount of experience and training which means that they can work to your requirements without supervision, this gives you less things to worry about. Our commercial cleaning can be done on an on call basis, where we would visit your office and give it a once over cleaning. This could include the cleaning the floor, internal walls and windows, office furniture and anything else that may require a good clean. Many of our Commercial Cleaning clients use our service on a regular basis, this could be once, twice or several times a week. We would send a cleaner to tidy the office and maintain a professional work environment for you so the employees can work without clutter and be more productive. This would include the cleaning of kitchen areas, break rooms, washrooms, emptying bins and tidying their work space.
Why Choose us?
The Commercial Cleaning Company services that we offer very competitive, which means you do not have spend an enormous amount of money to work in a clean and professional environment. There are many advantages to choosing Spring Cleaning for your Commercial Cleaning needs. We offer a professional service which is cost efficient, reliable and provides peace of mind.
Part Time / Full Time House & Office Cleaning Services Dubai
A thoroughly clean office is important for maintaining a proper and effective environment. Your workplace is the face area of your company. A thoroughly clean office produces an eternal impression in your customers as well as clients. It provides them an impact of your own efficiency as well as professionalism. An unkempt office provides bad impression about the clients also it will terribly affect the actual productivity.
Spring Cleaning offers the best office cleaning services in Dubai. Spring Cleaning will provide professional & well trained maids for commercial cleaning services. Clean as well as organized office is essential to maintain a proper and great working environment for the staffs. Consequently, it is essential to employ professional office cleaning services in Dubai & Abu Dhabi. Wheatear it is office, Warehouse, Restaurant, Building, Gym or another commercial properties for cleaning.