Book Complete Home Deep Cleaning Services / Move In & Move Out Cleaning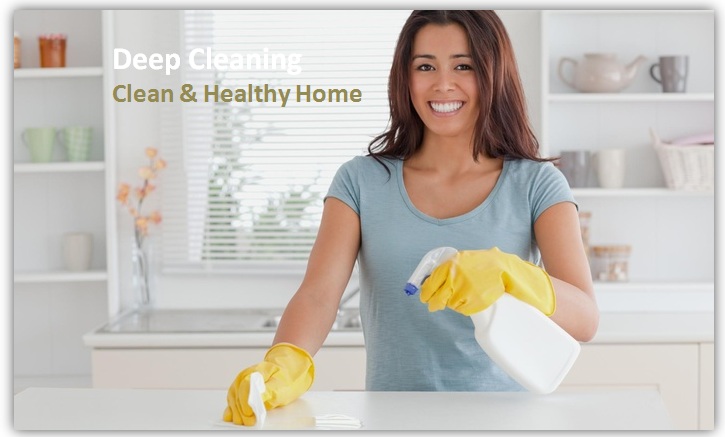 Deep cleaning company in Dubai now you can book from spring cleaning
If you require deep cleaning services in Dubai to freshen up you house. The Spring Cleaning can help you. We can provide a professional cleaners team to come in and effortless for your day and save time. Our deep cleaning services are the best for all Dubai who turn to save their time from the boring home cleaning. So just Contact us and book today on tool free Dubai 600 522 328 for detailed of Dubai deep cleaning services and information regarding our special offer.
In general cleaning we do Wiping lower your window blinds, cleaning the windows and cleaning your curtains will also be part associated with cleaning service UAE. You have to remove any kind of cobwebs through walls, ceilings, and from reach edges. Any atmosphere vents also needs to be cleaned out. In your kitchen area the actual fridge as well as cooker could be removed (providing residential cleaning that they're not built-in), enabling you access to wash both beneath and in it.
All of us, at springcleaning, supply the following kinds of professional deep cleaning services in Dubai and Abu Dhabi
Cleaning services at spring Cleaning Company
We offer Deeply cleaning of cabinets inside and outside
Includes interior / exterior windows cleaning
Includes balcony cleaning of your villa or apartment
Removal of spots and accumulated dirt on floors and surfaces using high-pressure steam
Cleaning all the appliances, such as own, refrigerator, washing machines, hood, dishwashers
Team will Clean of AC vents, ceiling fans, and every part of home or apartments that is out of reach
Our charges are included for all cleaning equipment 
Deep cleaning is completely brand new property
Living Room: Apart through dusting as well as moping the ground, we send special team for villa deep cleaning our personnel clean the actual lampshades, enthusiast, air conditioner duct as well as windows cleaning. In the event that required, we perform a thorough place lifting as well as cleaning from the curtain, carpet and sofa too.
In your kitchen: In your kitchen, we clean all of the hard to achieve and the majority of forgotten spots such as the sides associated with cooking variety, space over the cupboards and underneath the sink same as under all of the appliances. Our expert staff additionally undertakes a comprehensive cleaning of all of the kitchen home appliances like dishwasher, fridge and stove.
In the bathroom: Our personnel deep thoroughly clean the bath tub and eliminate mold along with other dirt upon its attributes. We additionally undertake cleaning from the bathroom kitchen sink, toilet, and the actual tiles on the ground and walls aside from cleaning the actual shower drape and restroom rugs.
Deep cleaning Dubai include All electric appliances within the bedroom such as the light, enthusiast, air conditioner and so on are completely cleaned. The change boards tend to be wiped thoroughly clean and unsightly stains are taken off the walls. Windows tend to be dusted as well as cleaned along with microfiber. Mirrors floor cleaning and scrubbed will also be cleaned correctly. We always send special team for villa, House, Offices, apartment, building to make it neat and clean.
If you're looking for a deep cleaning company Dubai that offer reasonable deep cleaning services then appear no additional just book your order and avail the very best professional service around.
SCOPE OF WORK FOR DEEP CLEANING
Deep Cleaning & Sanitizing for all entire house 
Walls Ceiling cabinets floor deep steam cleaning
Deep Steam Cleaning of the bedrooms, including cabinets in/out
Deep cleaning and disinfecting of the bathrooms
Cleaning and disinfecting of the toilets
Cleaning of the windows inside and outside
Cleaning of all sockets, lights, skirting, fans, switches, etc.
Cleaning of all doors and balconies
Deep Cleaning & Sanitizing of the floors with a scrubbing Machine